UV immersion VGE: UVC sterilizer whose lamp is immersed in a large container, in order to benefit from a maximum lamp output.
Advantages
As the lamp is positioned directly in a tank (filter, collector, drum filter etc.) it does not cause any losses on the hydraulic network of the basin.
The circulation pump is relieved since the latter no longer has to force the passage of water in the sheath and the connections of the UV which are sometimes very narrow.
This helps to improve the flow of the pump.
The penetration of UVC radiation in clear water being significant, of the order of several tens of cm, a cylindrical volume of 50 cm to 100 cm long can be completely irradiated in a few seconds. Very good performance!
It is obvious that this type of UV is to be positioned exclusively in the largest spaces that are, this to benefit from a good performance.
Accessories (flanges, counter-flanges, supports) make it possible to install the lamp either at the bottom of a tank, or through a wall. These accessories are available in the section "accessories VGE"
To operate this lamp, you need a ballast, it is sold separately and must be installed by a competent person. The different models of ballasts are available in the section "accessories VGE"
Availability
| | | | | | | |
| --- | --- | --- | --- | --- | --- | --- |
| Modèle | | 40 W Amalgam | 80 Watt Amalgam  | 130 Watt Amalgam | 200 Watt Amalgam | 325 Watt Amalgam |
| Puissance | Watt | 40 | 80 | 130 | 200 | 325 |
| Durée de vie de la lampe | heure | 16000 | 16000 | 16000 | 16000 | 16000 |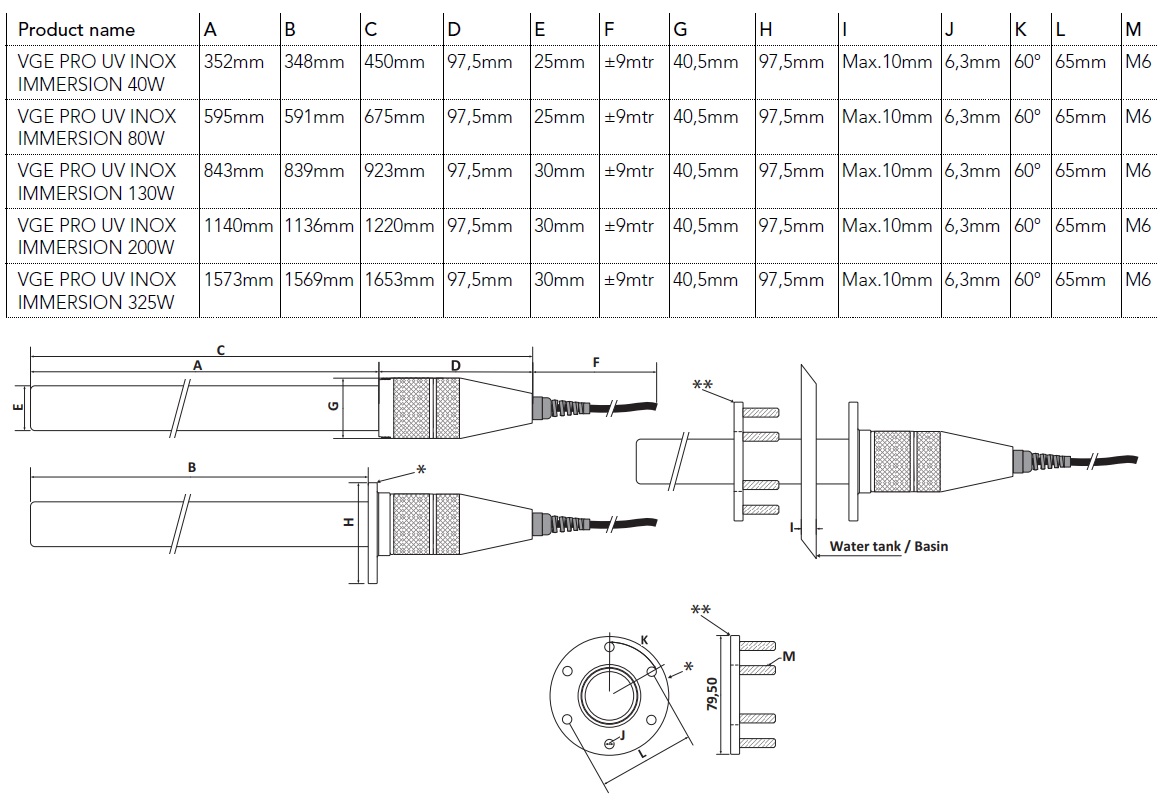 Warning
UVC radiation is harmful to the eyes and skin and can cause serious injury.
Do not operate the lamp out of the water: the appliance should only work in a closed, opaque container with a secure lid for children.
A switch must allow the power supply to be switched off in case of intervention.
Always keep the device immersed (for your health, and the durability of the device).
The user is solely responsible for the dangers of exposure to UVC.
This unit is sold without 230 V plug or ballast (sold separately) and must only be installed by a qualified person.